SEO is typically the thing that small businesses can benefit from the most. The primary goal with SEO is to make your website the first thing your target audience sees when searching for your services, not your business. This is a key distinction. If you own"John Doe's Plumbing" you want people to find your website by searching for "plumbing company near me", not just your company name.
When considering what will benefit our clients the most, there are two categories we consider when it comes to SEO:
The Google Local Pack
Organic Search Results
Let's discuss the difference between these two.
The Google Local Pack
The Google Local Pack is an extremely important aspect of SEO for any business that is focusing on a particular region for their business.
The Local Pack is that top section of a Google search you see when you're searching for a service that is region based.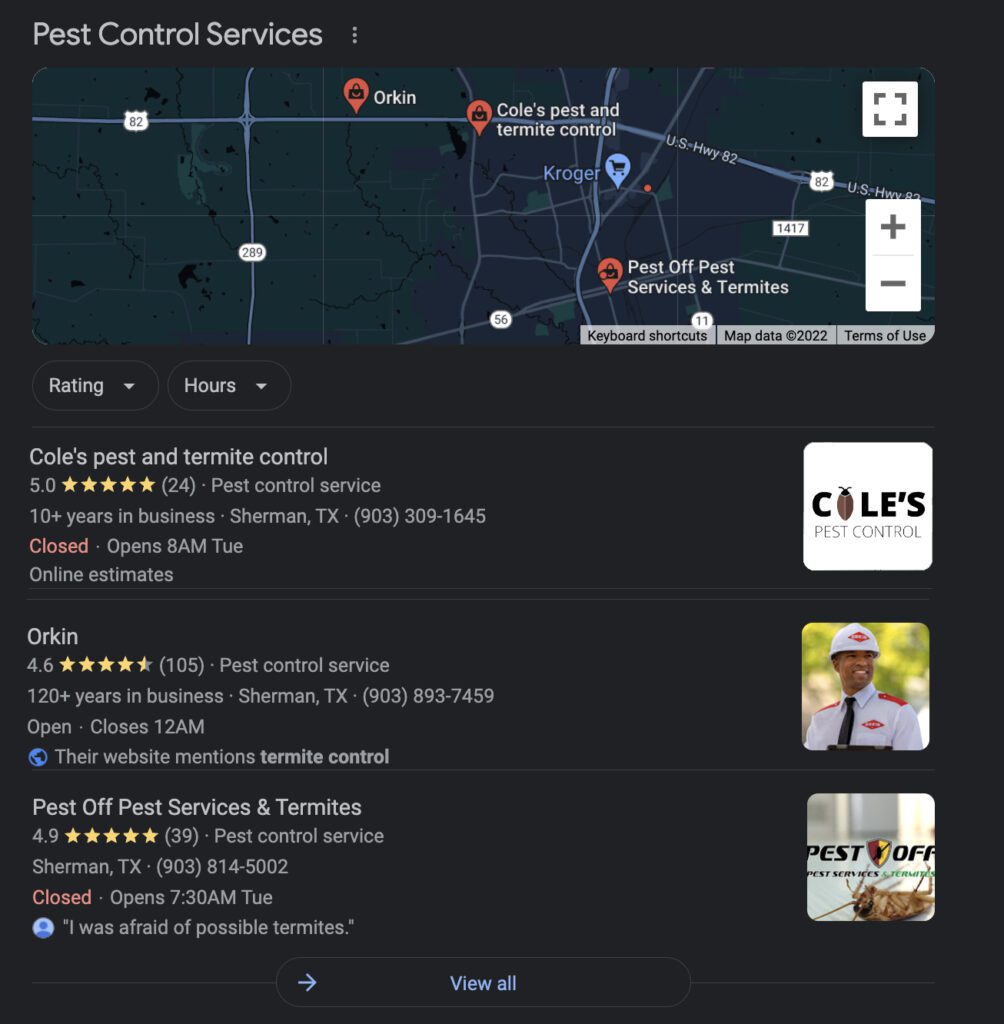 The Local Pack differs based on where you are located. Any business seeking to improve their rankings for the local pack need to first determine what area is most important for their business.
Texoma Marketing Solutions utilizes multiple tools to determine where our clients rank on the local pack to within a 3 mile radius. Our strategy is to begin small and gradually increase. In other words- we take a new client and get them ranking high on their local pack within a 15 mile radius, then move to a 30 mile radius, and so on until we have covered their entire service region.
Local packs generally help regional companies the most, such as brick-and-mortar stores or service-at-home businesses.
Organic Search Results
Organic search results are typically much more competitive than local pack results- but there is a way to use them to your advantage locally.
It comes down to keywords- Ranking high for the keyword "pool construction company" may be extremely difficult, but ranking high for "pool construction in North Texas" is significantly easier.
It all comes down to your keyword strategy.
In addition to keywords, Google does take into consideration mobile users location on certain keywords.
For example- if one were to search "Mexican food" on their mobile device(which is tracking the users location) then Google is automatically going to prioritize websites that Google sees as being in the area of the search.
Take Away
What you should take from this is that there are very particular ways you should set up your website in order to optimize where you rank based on what your audience is searching for. An expert SEO company can help you with this.
Reach out to Texoma Marketing Solutions for a free consultation to see how you can optimize your website for the keywords your demographic is searching.